If you've made it to this page you are thinking about adopting a cat.
Please read everything we have to say below before completing our pre adoption questionnaire.
Firstly:
Before you think of adopting a cat or kitten please consider where you live. Is it close to a busy road or fast traffic? Do you live near supermarket car parks, railway lines, factories or other hazards. Cats are like little children they don't understand what happens if they cross a road, they act entirely on impulse. Sometimes our foster mums will work tirelessly with a cat for many months so they don't want them to end up under the wheels of a car. We will not rehome any of our cats where we think they will be at risk. We cannot avoid cars but we have to find the best and safest homes for our cats and kittens. Shropshire Street Cats.
Points to consider before you apply for a cat:
Some  (but not all) of our cats are  traumatised, insecure and sometimes they have also been physically abused. It will be your responsibility to rehabilitate these cats which will require your patience, understand and full cooperation.
They often need a lot of time spent on them so generally they are not suitable to be left for long periods of time. Kittens in particular benefit from not being left for long periods so please consider this before applying. Please make sure you have time to spend with your cat or kitten for play  and  socialisation.
We are looking for homes for all our cats where they live as part of the family. Please consider the age of the cat/kitten you want to adopt against your own age before applying. Some cats can live into their twenties so you will have to make provision for them in your old age should you not be able to care for them. Whilst we understand life holds no guarantees we try to give every cat the best possible chance of a home for the rest of it's life.
We will allow cats to be adopted to homes with children of all ages as long as the cat is suitable for that environment. We will discuss your circumstances and try to determine if the cat you're interested in will be suitable for your home/family/lifestyle/other pets.
 Your garden must be safe, away from traffic and passing cars and not close to any hazards ie factories, shopping areas, car parks.
We are looking for wonderful, responsible, forever homes. That means asking questions and trying to marry up the correct pet with the prospective family. We are not judgmental but we have a very large responsibility to make sure we do what's right for you and especially for our charges.
Adoption Procedure
Once you have completed an application form you will be automatically added to our database.
If you have applied for a specific cat we will discuss some of your answers in order to ascertain if we think the cat you are applying for is a suitable match for your lifestyle,  or if we have any cats relative to your application. If we do not feel the cat is a match we will keep you on our list or we may suggest a different cat to you. If we feel your application is a match we will contact you, we will be able to tell you a lot more about the cat and answer any questions you may have.
Once it is agreed to go ahead with the application, and you have decided on a cat that you would like to adopt after meeting him or her a home check will be arranged.
In some circumstances you may be asked to provide references, i.e. if you live in rented accommodation we will need to see proof that your landlord allows you to have a cat.
All members of the family and any pets who will be living with the cat you want to adopt must come to meet the new cat or be available to meet at the home check stage. We do not we do not let third parties collect for you or deliver cats to their new homes unless they are verified through u
If you are applying for a kitten you will also be asked to sign a contract to say you will neuter your kitten at a certain age and get your vet to sign a proof of neutering certificate once spayed or neutered.
Adult cats are neutered, micro chipped, had at least their first inoculation, flea treatment and wormed. All kittens are flead, wormed, micro chipped, had at least their first inoculation. If your kitten has not been spayed/neutered a declaration will be signed at time of adoption requiring a new owner to spay or neuter. Each cat is covered by Agria Insurance for 5 weeks, the first week is accident only and the next 4 weeks are full health insurance.
Adoption Fee
The adoption fee for our cats is at £65 and we would appreciate it if you could donate more than this to help other rescue cats and kittens in our care.  The adoption fee is  considered a donation to Shropshire Street Cats  and thereby is NON REFUNDABLE.
Where it goes:
We spend a huge amount each year on vet treatments and supplies. All our adult cats are spayed (unless there is a medical reason for not doing so), have had at least the first inoculation, micro chipped and wormed.
If needed, we have x-rays, lab tests, specialist procedures and operations carried out and often numerous additional medicines and treatments are needed for both adult cats and kittens. There is often specialist food to buy and the upkeep and heating of our pens.
The adoption fee for kittens (although they are not spayed/neutered) goes towards the worming and inoculations and helps with the extra costs of so many specialist operations that other cats at Shropshire Street Cats have to endure to give them a chance of a normal life.
Volunteers spend a huge amount of time and effort fostering, fundraising, transporting and carrying out admin, all done voluntarily.
We hope this will help everyone understand the cost of running this rescue and also let people see where their donations are spent. We are a not for profit rescue and  a registered charity.
If you are happy to proceed please fill in the questionnaire below and return it to us via email at: [email protected]
Cat of the Month Dougal
Douglas  is a black and white Heinz 57 breed and very handsome big cat, very lovable but can be a little sparky at times and can play rough! He loves cuddles but not loud noises.  Dougal needs an experienced cat owner without young children and with plenty of safe outdoor space as this boy is very active for his 7 years! He is a great chap loves his food and is such a clean boy would be a great cat to adopt and so big! How can you resist that face!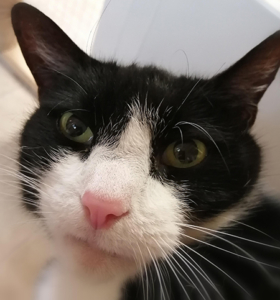 Dougal is a Black and White Heinz 57 breed. Neutured 7 year old male, very lovable, but can be sparky! He loves cuddles but not loud noises. Need an experienced cat owner without young children and plenty of outdoor space as this boy is active. Dougal would be ideal for an experienced cat owner without young children.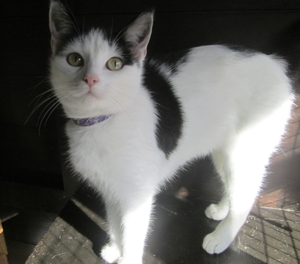 10 month old Jessie is looking for a home with sister Jummie. The girls are friendly, sweet and playful and would adapt to most families.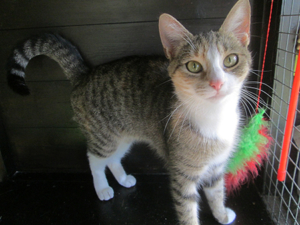 Jummie who is 10 months old is looking for a home with her sister Jessie. The girls are sweet, playful and friendly and would adapt to most families.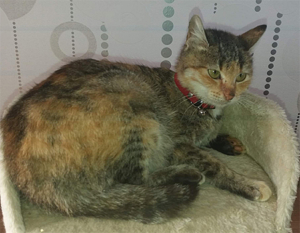 How about a little ray of Sunshine in your life? very tender,affectionate,calm and friendly and a round one year old and few months Sunshine is speyed,wormed,flead,vaccinated(polyvalent+rabies) passport,microchip,can travel to Uk anytime and can be delivered at home. Sunshine was found this winter in a basement in Romania, we think someone dumped her and she tried to find a shelter in that basement,she ate from a dumpster. What a little ray of sunshine!!! Would you like to welcome this little girl into your home.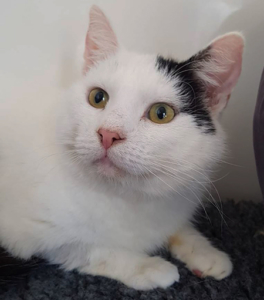 (reserved)What a beautiful boy. Meet Ronnie. Ronnie is 4 1/2 years old. He is a cat who needs a very quiet calm living home as he has come into us very stressed. He would be better as an only cat and could be a lovely companion for the right couple or single person who are experienced cat owners living in a cat safe location with a garden. Ronnie really needs someone who will give him so much love to make him feel better.
(reserved)Pop a gorgeous 16 week old kitten a lovely bouncey boy we would love him to be rehomed soon as it would be such a shame to miss his kittenhood!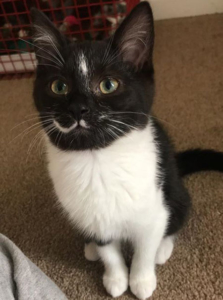 Lovely 4 month old Lucie fully vaccinated and chipped would like to be adopted with brother Charles. Both brother and sister are fully vaccinated and microchipped and ready for adoption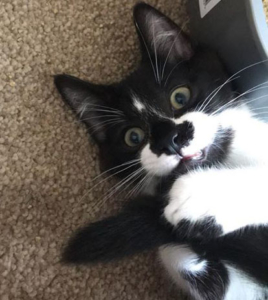 4 month old playful kitten Charles would love to be adopted with his little sister Lucy. He is fully vaccinated and microchipped all ready for adoptiong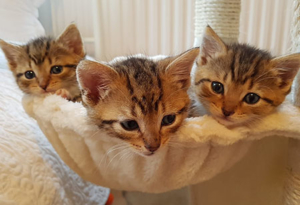 Three little brothers, Norris, Ken(adopted) and Roy looking for a loving home just the sweetest kittens we have ever fostered absolutely to die for and ready for adoption NOW!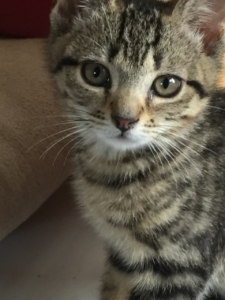 Garvin and Reza Both are feisty little boys who love playing with their toys. They like the laser pen best as it gives them a chance to race around like lunatics! Both are still a bit shy but in the right mood will be cuddled and purr loudly. They are almost identical and always curl up together.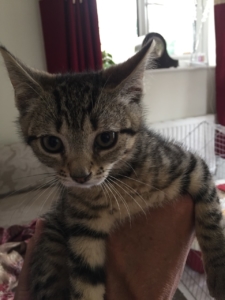 Reza and Garvin both are feisty little boys who love playing with their toys. They like the laser pen best as it gives them a chance to race around like lunatics! Both are still a bit shy but in the right mood will be cuddled and purr loudly. They are almost identical and always curl up together.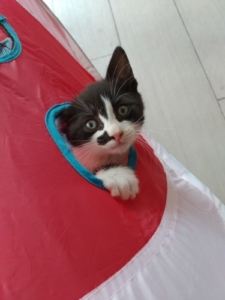 Meet Drogon a gorgeous playful little kitten who is a sweetheart. He loves to play with his brothers Jon Snow and Tyrion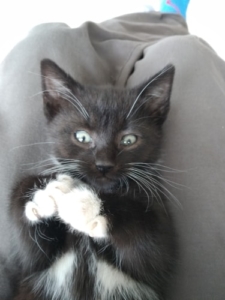 Meet Jon Snow a gorgeous playful little kitten who is a sweetheart. He loves to play with his brothers Drogon and Tyrion
Meet Tyrion a gorgeous playful little kitten who is a sweetheart. He loves to play with his brothers Jon Snow and Drogon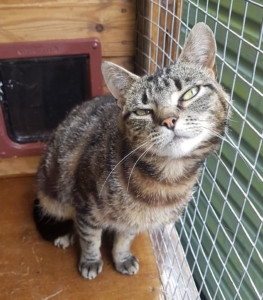 (reserved)I am so sweet and purry you just love me don't you!!! This is Lady Lilly a super little female tabby approximately 2 years old and looking for a wonderful home. A sweeter more gentle girl you just couldn't wish to adopt.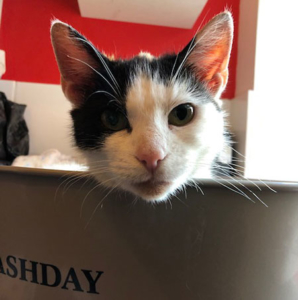 (reserved)Sweet little calico Nessie would love a safe and loving home. She is very sweet and gentle and approximately 2 years old.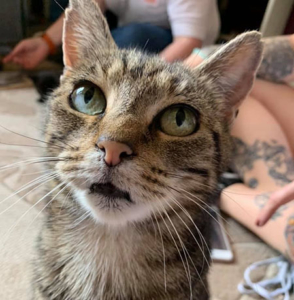 Yummy mummy Bourbon has raised her two kids, Biscuit and Bourbon and is looking for a safe loving home with or without her kittens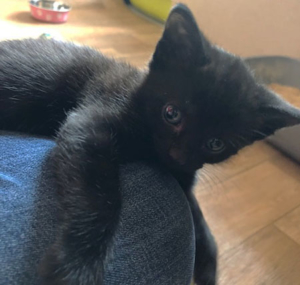 Little Oreo would love a home with her brother Biscuit or with mum Bourbon. Sweet little girl a purrrr monster.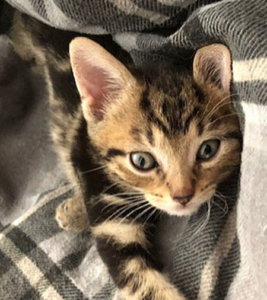 (reserved)Lots of fun young Biscuit would like to find a home with sister Oreo or with his lovely mum Bourbon. (or both!!!!) a lovely little ready made cat family.