Like cats? Like tea and cake? Well we've just come up with a fundraising idea for our most loyal supporters. We're opening up our luxury rescue pen near Whitchurch as (probably) the UK's smallest cat cafe. For a minimum donation of £5 per person come and see the cats we have resident, and enjoy some tea/coffee, biscuits and cake.
Terms: suitable for 1-3 people only. Strictly limited availability – our cats come first and many cats would not be confident enough to have visitors. We'll advertise whenever we have a time slot available, and ask you to message if you're interested. This is an opportunity to meet the residents, possibly with a view to adopt, although this is not required. We are not operating as a licensed cafe.
If you would like to go on the list to come and share tea and cake with our cats when we have a vacant spot please email us at [email protected]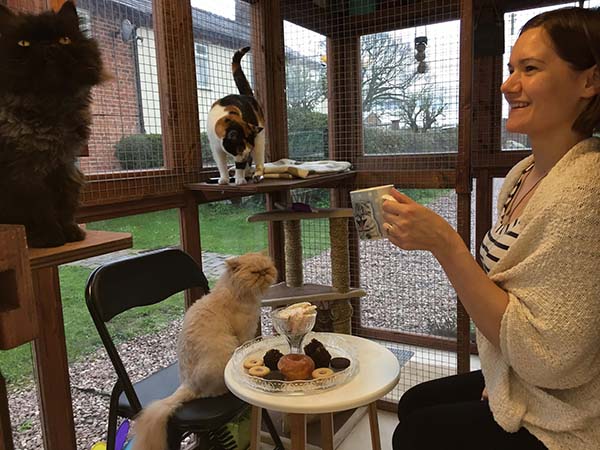 Here's what one visitor told us; "My son said it was the best cat cafe we have been too (and we've been to them all around the world from Beijing to Warsaw, Orlando and Budapest ha ha). I have to say I agree." 

?

?
Covid Update
1. Please advise us before arrival if you have experienced any Covid symptoms, your visit can
easily be re-scheduled.
2. On arrival we kindly request that you wear a face mask, but you're free to remove this once
you're in the cat pen.
3. Hand sanitiser is provided, however the smell is very off putting to cats! We advise that you
arrive with clean hands and sanitise on exit.
4. The cattery pen is cleaned before your arrival, in particular chairs, door handles, and
everything we serve food and drink in.
5. Please be advised that the only toilet facilities are inside the house, which you are welcome
to use at your own risk. We would kindly ask you to wear a face mask whilst inside.