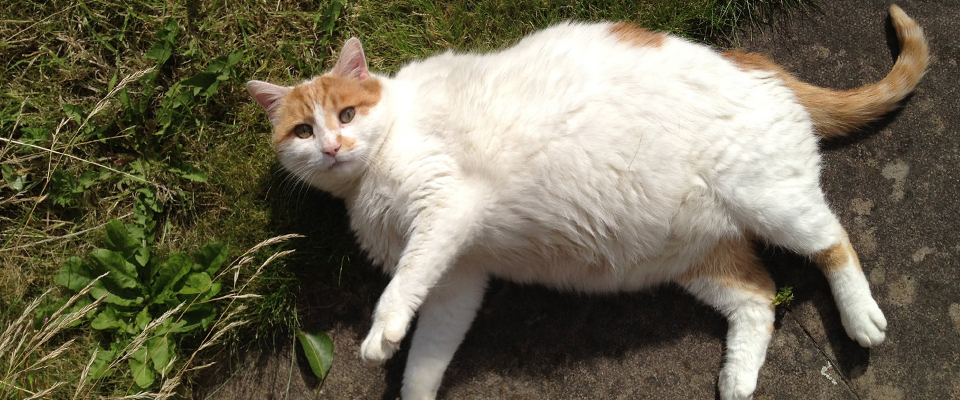 The Story of Fat Kitty – by Artist Extraordinaire David Burgess!
Let me tell you the story of Fats! aka, The Fatsicle, aka Lord Fatsington, aka Fat Kitty… real name: Oscar! Across the road from me lives the fattest cat I've ever seen! Initially I thought it was pregnant, but I soon learnt he was male and just a big un… Over the years he has popped over to my house for a snooze and a fuss! Even when he's happy and purring like a power drill he looks sad, it breaks my heart to look at him sometimes, especially on a cold day when he's sat outside… anyway I made a little sketch of him and thought it would suit nice for a Valentine's day card, it has since evolved into a phenomenon. He inspires all items listed here.
The cats and basket are lovingly created by Alison Derwent a local craftsperson. Each cat is created from recycled fabrics and the baskets knitted from donated wool. The cats are non removable from the basket and each creation is totally unique! Alison's greatest delight is homing her cats with a new loving owner.
Slate Items are crafted by Alison Fellowes who has her own gallery in Market Drayton.
Our aim at Shropshire Street Cats is to feature local craftspeople and raise funds for Shropshire Cats. Please have a look at the wonderful products which make perfect gifts for friends and family.
ALL PRODUCTS COME WITH FREE POSTAGE AND PACKING!